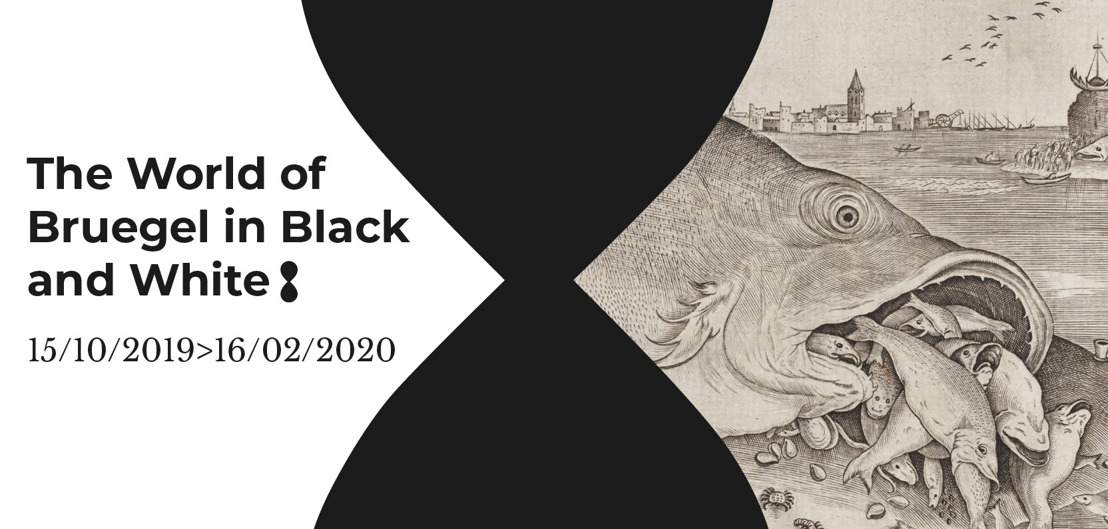 Complete collection of Bruegel's graphic works on display in KBR
'The World of Bruegel in Black and White' opens on 15/10
Monday, October 14, 2019 — On Tuesday 15 October, the exhibition 'The World of Bruegel in Black and White' will open in KBR.
Every one of Bruegel's prints and three of his original drawings will be on display at the exhibition. Being very fragile, these works hardly ever leave the Print Room at KBR.
This is the first exhibition to be held in the renovated apartments in the Palace of Charles of Lorraine, which have been refurbished as an exhibition space. The space is now fully accessible to wheelchairs.
Download the attached press file, with information on the complete exhibition trail and an explanation of the top pieces in the exhibition.
Bruegel is not who you think
Everyone knows Bruegel to be a world-famous painter, but did you know that, in his day, it was his prints that brought him widespread fame? As a pioneer in the rediscovery of Bruegel's lesser-known masterpieces, KBR possesses a complete collection of prints and these will now be exhibited to the public.
The print business
The exhibition takes you back to the turbulent 16th century. About 450 years ago, Flanders was the centre of print production and trading. Bruegel and his publisher, Hieronymus Cock, played an important part in this period. Their expert craftsmanship and entrepreneurship are highlighted in the exhibition. The exhibition zooms in on their unique partnership. Considerable work was involved in a print before it could be marketed and distributed worldwide. In the exhibition, you will discover the process involved, from drawing to print. You will also find out how much prints were worth, and how and to whom they were sold.
Exhibition trail: from landscapes to deadly sin
The exhibition is divided into a wide selection of themes. Light is shed on Bruegel's evolution as a print artist and you will discover those that inspired him. You will discover the favourite subjects of Bruegel and his contemporaries and how, beneath their initial amusement, Bruegel's prints often conceal a double message. The attached press file goes into more depth on this subject.
As well as being able to admire prints, you will also see other pieces from Bruegel's day. Indeed, Bruegel's influence went way beyond prints alone. Even today, he remains an inspiration, which is why the street artist Phlegm has created a mural on the KBR building, inspired by Bruegel.
Curators: Joris Van Grieken and Maarten Bassens
'The World of Bruegel in Black and White' is an initiative by KBR, made possible
by the support of many partners: Toerisme Vlaanderen, National Lottery of Belgium, Baillet-Latour Fund, asbl Mont des Arts, Belgian Buildings Agency, the Federal Government, De Standaard, La Libre, Klara, Musiq 3, La Première, The Brussels Times, Knack and Le Vif.